What would happen if those around you saw your every potential? What if they discarded every notion of what is, and asked themselves – what could be?
This is a story of two cats who have experienced exactly that, and today we get to meet them.
I first heard about Nathan in 2017 when she – yes, Nathan is a girl – rose to internet fame with videos of her frolicking in the surf at a Queensland beach. The young black cat had followed her humans, Mel and Rian, into the water and insisted on playing in the waves with them, her tail held high like a periscope as she kitty-paddled through the water.
In 2018 Winnie arrived and Nathan took it upon herself to teach her little sister everything she needed to know about beach life. With the new kitten following Nathan everywhere it wasn't long before the both of them were out enjoying the water together, paddling in the shallows and posing on surfboards.
I watched in awe as every new video was posted – but I wasn't the only one. With coverage in major news outlets and national television appearances over half a million subscribed to their social media channels to see the salty sea cats in action.
But beyond the hype of internet stardom there is a story of immense love and as I park up our van at the Bunyavillle Convervation Park on the outskirts of Brisbane, I feel honoured to be able to meet them in purrson.
Mel opens their car door and Winnie pokes her head out as Nathan jumps passed her onto the ground. As keen as Winnie is to join her sister, Mel has to hold her back so that she can organise her harness as Nathan waits patiently.
Today we are enjoying a walk in the forest together.
Nathan's got a bit of a personality, Winnie's the gentle soul, Mel says.
Mel introduces me to Denise, Rian's mum, who will be filling in for Rian on cat handling duties – for as I would soon discover, directing these two on the trail is a two person job!
With Nathan on lead and Winnie in her backpack we start our way down the trail into the park as the birds chirp in the trees high above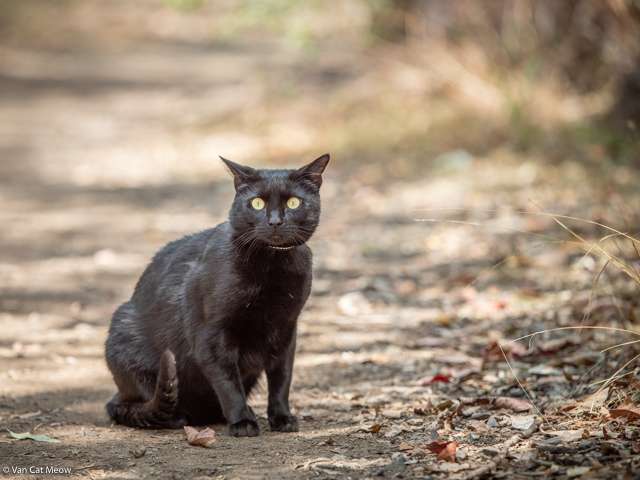 For the two beach cats who have found their calling outdoors, Mel and Rian put great effort in ensuring they get the nature time they require. They have found that their forest explorations have been a great addition to their beach lifestyle.
Though during the weeks where they are unable to venture further afield the cats are taken on walks around their suburb to burn off some energy.
We've been doing night walks lately. They work really well with no one around, Mel says.
Now, when it comes to hiking with cats one should be aware that there is no such thing as getting from A to B. In fact, this is what makes the experience worthwhile, for it is in the times we stop to inspect a tree or are even directed off-path that we realise we are living in the moment.
Can you tell Nathan and Winnie apart?

– Nathan has a black harness with white stitching and Winnie has a pink harness.
– Both have yellow eyes but Winnie's are slightly greener around the pupil.
– Winnie has a slightly smaller frame, a few chin whiskers, and some white hairs on her chest.
With Winnie still in her backpack on Denise's back, Mel encourages Nathan onto a stump for a photo. I take some snaps as Nathan poses expertly, but it isn't long before she is distracted by a bush turkey foraging nearby.
When Rian and Mel discovered baby Nathan at RSPCA Bundeburg they learnt of her being found in a cardboard box by the highway with her mum and siblings. They knew they had to have her but she was just half the size required to be adopted out. Over the next month the two visited her at every opportunity to follow her progress as she grew and an exceptional bond was formed.
The two knew they wanted their new family member to join them outdoors, but what they weren't expecting was for her to follow them into the water on one of their beach visits. Her confidence grew and with each visit she ventured deeper and deeper with Rian and Mel's support at every step.
So, it wasn't any surprise that when they discovered Winnie at RSPCA Bunderburg a year later she was able to draw from that confidence her sister had developed and join Nathan in the water.
It's as if Mel and Rian threw away every idea of what owning a cat should be and let the girls set their own limits on how to live their life.
And this is what I find so beautiful about their story. This is the lesson that Nathan and Winnie teach about love and potential – If we forget about what people think we should do in our lives and just do what makes us happy things often turn out for the better.
Then I wondered. How many times had my limitations been set by others? How many times had I done that to someone else? Wow, that is a lot to think about!
The sun is getting high now and as Winnie joins her sister on a log it's time to start heading back before the midday heat. Winnie is placed back in her backpack and Mel picks up Nathan cradling her in her arms.
When we take them out, we take them out for them. There's a lot of carrying involved, Mel says.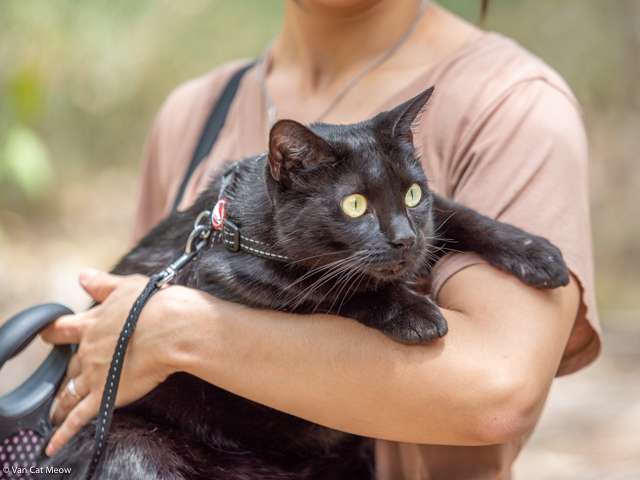 Back at the carpark Nathan sniffs the side of the van as Willow sleeps inside. I swing open the sliding door waking her up from her morning nap as the girls walk around.
Winnie is intrigued by our campervan home and soon has her paws up on the step looking in. To our astonishment she jumps in with Nathan following her!
Seems as though we might have some potential van cats here?
Mel is quick to grab the girls before they make themselves at home as Willow looks down from the bed wondering what all the commotion is about. I pick her up and together the five of us pose for a photo.
I'm obsessed with them, these are my babies, Mel says.
As we hold the wriggly cats and smile for the camera we realise that getting all of them to look the right way may not be a possibility – but that's okay.
As we say goodbye I think about the lives these two cats are living – and the two humans that walked into that shelter in Bundeburg and saw not what is but what could be.
How many cats awaiting there forever homes have that same potential? I think that maybe the answer is all of them.
* * *
Thank you so much Mel for bringing the girls up to meet us – oh and also to Denise for stepping up on cat handling duties as Rian was busy.
This is yet another story that would not have happened without the work of adoption and rehoming shelters around the country. I would like to give gratitude especially to RSPCA Queensland so if you would like to make a donation you can do so directly here. I will start the ball rolling with $35 from Willow, Steph and I.
You can continue following Winnie and Nathan's adventures on their Instagram @nathan_thebeachcat, their Facebook Nathanthebeachcatofficial, or check out their awesome blog and merchandise. They also have a 2021 calendar out which looks awesome!