It's Springtime in Tasmania and throughout the towns the cherry blossoms are on display. In the wilds, the flowers are blooming, and the snow on the mountains has melted. The days are getting warmer and with this passing of time I'm reminded it's been a while since you've heard from us.
So, where have we been? Are we giving up van life?
Although it's warming up, Willow still climbs in under the blankets every morning for a snuggle.
The last time you heard from us we were sharing our snow adventure in the Tasmanian highlands. Since then, I vowed to warm my bones from the inside and not hide away for the cold season. I vowed take winter head on.
On my days off from my work at the Cat Centre I took to the mountains, hiking the trails and trudging through the white. In fact, I became rather enraptured by the snow and the trails that took me there. During June and July I hiked over 140km and clambered up every peak in Wellington Park.
How lucky the residents of Hobart are to have these beautiful giants in their backyard. For me, there is something gratifying about conquering the peaks, a sense of calm at the top in the fierceness of the chill wind. How I feel strong and in control in the wilderness, and in the city, a wreck.
Though, as we discovered, Willow does not care much for snow, and spent the winter days snuggled under any blanket she could find, and the nights on our laps.
In August, I flew with Steph to the UK to meet her family. We had originally planned to make this trip in 2020, shortly after our wedding, but those plans were put aside when covid arrived. It was so nice to finally meet Steph's family and friends.
We spent a few weeks touring the Southwest in Steph's parents' camper van, which they kindly let us borrow. We got a taste of summer, visited seaside towns, and swam wherever we could. In the countryside, we visited old manor homes and roamed the gardens.
But, there was one thing missing on our UK van adventures – Willow!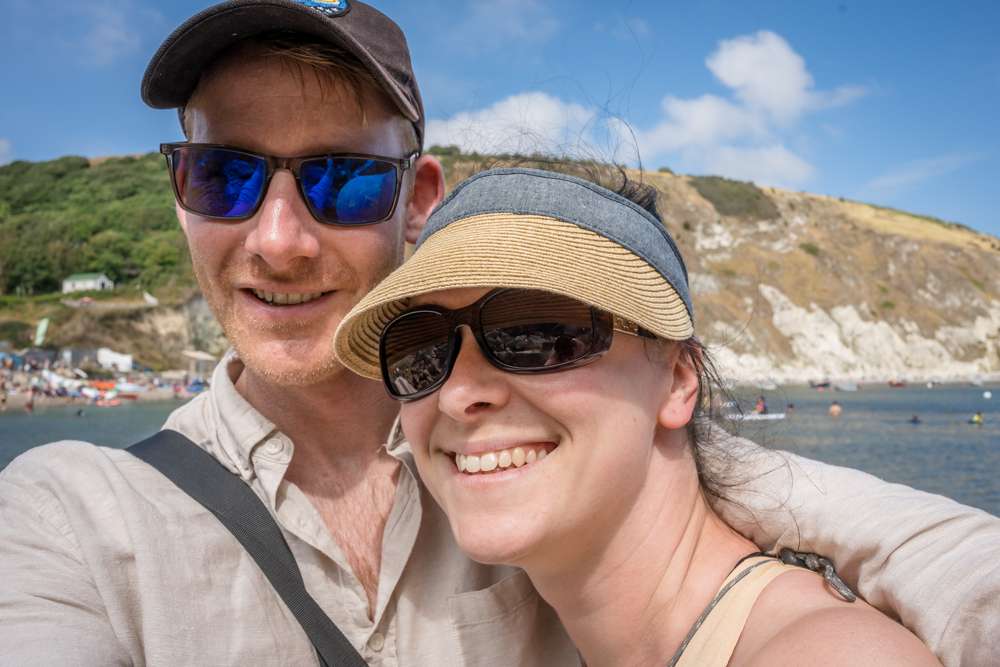 When we returned to Hobart we picked Willow up from boarding at the Cat Centre. It was comforting to know that she was in good hands while we were away, and we received many photos and video updates of how she was doing. Willow had won a few hearts in the animal attendants during her stay there, and it was great to hear she had made some friends.
Back at home, Steph and I settled back into our cottage in the village with our jet lag and considered our camper van sitting in the driveway.
Our lives with jobs and living in the cottage is comfortable, but it is not comfort that we seek.
No, we are not giving up van life. Next year we will be leaving Hobart in it, the three of us. We'll say goodbye to the cottage and travel to mainland Australia where we'll explore places we've never been to before, and Willow will roll around in the outback dirt as we watch the sunsets together.
But before I got too far ahead of myself, there was a scratch in my throat. Covid.
I tested positive a few days before I was meant to be back at work. The disease progressed mildly not before giving me a bit of a rattle. A couple of days on the couch and I was on the mend, but not without a lingering cough. Four weeks later I feel I'm back to normal, and can write again!
Our time travelling in a different van gave me some ideas for ours. We were particularly impressed with the table space in Steph's parents SWB Volkswagen T5, so I took to completing some renovations.
It's still a work in progress as you can see. I'll be replacing the cutaway kitchen bench with a full bench piece, and improving the swinging table so that it can better accomodate our daily activities and meals.
One thing I became aware of when I was building this kitchen in 2019 was that I wasn't going to get it right first go, but the great thing about building a van yourself is that you have the knowledge to change things if you discover they don't suit.
On a tangent, I have a column in the local gazettes sharing my experiences working at the Cat Centre. I had the pleasure of doing a story on a remarkable woman named Robyn who upcycles fabric from the Ten Lives' Op Shops into beautiful handbags. I was inspired to do some upcycling myself, so I started experimenting with old pallets. Here is a potting table I made for my neighbour. It's amazing to think how much useable stuff we just throw away.
What do you think about all that, Willow?
I think she's just glad we are all back together. We will have lots of adventures to share with you this summer, our last summer in Tasmania, so expect to hear from us regularly now on. As we get ready to pack up the cottage and get back into the van, it's a time to reflect on what we truly need in our lives. It's amazing what you collect when you have the space, but what won't fit in the van will have to go.
It's going to be an exciting summer, and we look forward to sharing it with you!
* * *
Yes, it has been a while! Thank you to everyone who messaged to check up on us – it's comforting to know we have people looking out for us all over Australia and the world.
Talk to you soon!
P.s. take a look below at this butterfly I snapped at Changi airport. What a strange place..