Willow is a fluffy little bundle of joy. She is very affectionate and really loves her cuddles, pats, and head rubs. She was adopted from a shelter in Hobart, Tasmania well before we decided to travel. She is about 11 years old. She has beautiful green eyes and a very small patch of white hair on her chest.
Is Willow adventurous?
Willow is very curious and loves to explore. She adapts well to new environments but is quite cautious until she feels comfortable. She spends most of her days snoozing on the dashboard or under the van. On cold days you will find her snuggled up in my blankets.
What is that around Willow's collar?
Do you let her off the leash?
Willow spends the majority of her outdoors time off-leash under supervision. This means I find places to camp which are suitable both for her safety and the safety of our wildlife. We do not go into National Parks or Flora/Fauna reserves, but we still get to see some incredible places.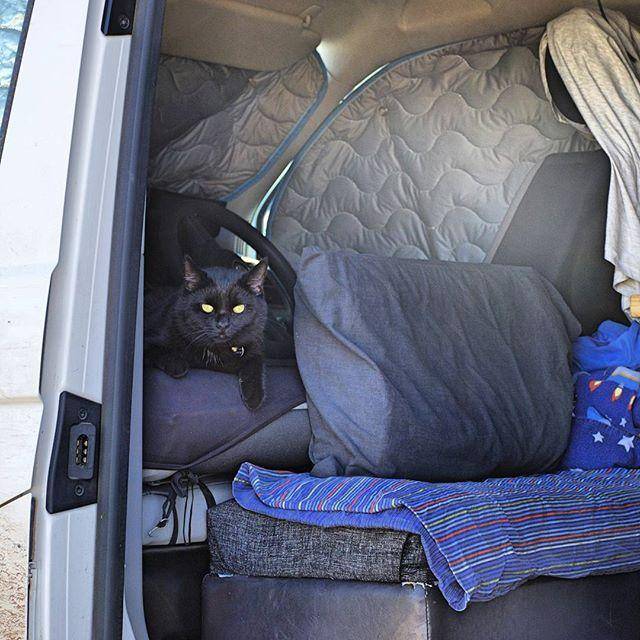 How do you stop her running away?
Willow and I have an unspoken agreement. She will always come back to the van, and I will always wait for her. She rarely wanders away from the van without me but if she does I can find her quickly with her tracking collar. I don't believe the bond between us is greater than any other human/cat, but we are in a situation every day where we are reminded of that bond. Spending 24/7 together we have gotten to know each other very well.
Read about geo locating your cat here
Where does she sleep?
When she's not snoozing outside she will either sleep on the passenger seat or curl up by my feet at night. When we are driving she snoozes under the blankets.
Is it difficult travelling with a cat?
I may be biased but I believe travelling with a cat is easier than travelling with dogs. Cats are very independent and don't require a huge amount of attention.
Willow has her own area in our van under the kitchen bench where we store her litter tray and supplies, and has access to her water bowl.
The only disadvantage to having a travelling cat is not being able to go into the occasional area where pets aren't permitted. We avoid the crowds in National Parks to find our own hidden places that maybe we wouldn't have found otherwise.
Is Willow a 'turkish van' cat?
No, she is just a regular van cat.