When we arrived at Ticoba Blueberry and Avocado farm back in December we were expecting to pick blueberries for a few weeks then carry on our adventure down the coast.
That was nearly 12 weeks ago.
It was a chance to earn some money and escape the summer heat on the Comboyne Plateau above Port Macquarie. Though, what we found there on that farm was so much more.
I've stuck together all the little videos we took over the months for you.
As you can see Willow loves blueberries – but just not to eat! In the evenings it's almost her mission to find a stray berry on the floor and chase it around. As for avocados, she loves having a small piece to eat which I'm told is safe for cats in moderation.
In case you missed them, here are the main stories we shared about our time at the farm.
For the rest of this story I would like to share a few other bits and pieces and introduce you to some friends.
Although we spent nearly 3 months at the farm La Nina was in full force and we copped a lot of rain. This meant that during that time we only had 29 picking days.
During that time I picked a total of 615.558kg of berries. Well, what I should say is that 615.558kg made it into my buckets – who knows how many berries I ate myself?
I found the picking to be very enjoyable, peaceful even. As I placed the berries into my bucket I would listen to the sounds of the farm and birds.
One day, I overheard what sounded to be a talking parrot a few aisles down from me. Surely enough, as I took my buckets up to the weighing station I was met with a family of pick-your-owners with their stunning Alexandrine Parrot. Now I have since forgotten his name, but he was a very friendly guy and we chatted briefly about blueberries before he hopped back on his owner's shoulder.
I was told that when they used to go away without him they had to organise FaceTime calls so he didn't get lonely. Now, they take him everywhere with them.
Though travelling birds are not the only intriguing animals on the farm. On starry nights when the rain eased you would hear the sound of the dingoes' howl from the bottom of the farm. Their tracks could be found in the mud the next day, though rarely would you see them.
That is, until one day I was sitting in the van and, lo and behold, one was staring right at me. Did you see him in the video? I tried to chase after the curious fellow but he didn't want to be friends – Willow was not impressed when I returned to the van.
Bonus points if you spotted the roo in the shot of the blueberry aisles.
On the nights where the rain had let up the sky would put on a show. I snapped this photo of Willow and I with the sunset behind us.
One of Ticoba farm's most distinguished furred friends is a dog by the name of Lucky. He has been accompanying his devoted owner, Allison, to work for the past 14 years. It's fair to say, this dog knows blueberries.. and avocados.
Lucky was kind enough to allow me to take some portraits of him.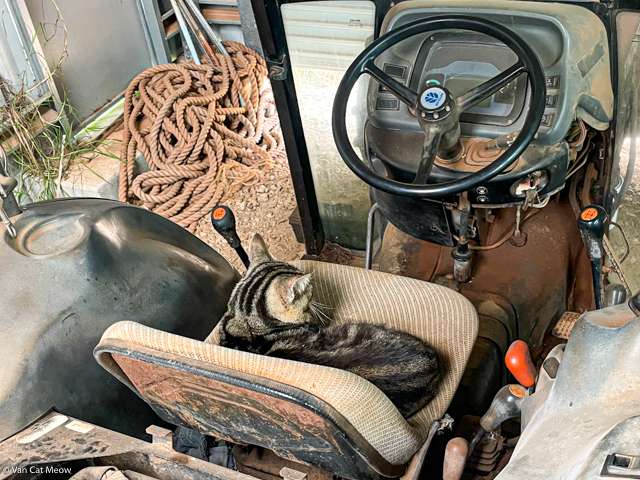 One of Ticoba farm's more elusive residents is the tabby cat that lives in the sheds. Only twice did I spot the little guy. One time I managed to sneak up behind him as he had a nap on the tractor. Though as I stepped closer he glanced up in astonishment before darting under the roller door before disappearing.
Ticoba's newest resident fluff-ball is a kitten by the name of Trixie. We visited Trixie and her mum, Nat, who introduced us. Trixie was very well behaved for us, so much in fact that Nat had to assert that she is not always like that. The devil in a fur coat, she says. I'm not so sure, I say butter wouldn't melt in her mouth!
The blueberry season is over now and the trays have been stacked in the shed. Willow was quick to discover her new favourite napping location. Maybe she thinks she is a gigantic blueberry? Don't worry, all these will be washed before next season!
One of the biggest treats of staying at the farm was having an oven. We have made many pizzas but my all time favourite was Steph's blueberry cheesecake. So yummy! Would you believe the blueberries are local? Very local.
Now it was time to say goodbye to Ticoba and all we have met. Goodbye to the blueberry fields and endless terraces of avocado trees, and to our kind, generous hosts Penny and Ernst.
Until next time Ticoba.
* * *
Staying at Ticoba farm was such a good experience. How were we to know when we first drove up that muddy driveway the impression the farm would leave on us? I don't think I'll ever get that red soil out of my t-shirts! We were truly sad to leave.
But now, on to our next adventure!