Sunshine Coast, Queensland On our travels down the coast after our time in the desert I got to meet two of my favourite cats of Instagram. Tucked away in the sleepy hinterland of the Sunshine Coast is the home of Lamington and Jamu, a cute modern Queenslander house that they have made their jungle palace. Surrounded by forest and towering bamboo, I parked up in their driveway and approached the house. I was met by one half of Lamington and Jamu's humans, Gretch, as I wondered where the adventurous two might be lurking. Surely climbing a tree, or soaking up some sun. Nope. 'You've caught them at nap time, they're inside!' I was informed. Apparently, they had a busy morning because when I walked in Jamu, the one-year-old bengal, was fast asleep on the bed, and the nearly 2-year-old ragdoll Lamington was napping underneath.
Jamu opened her eyes, promptly stood up and stretched her legs before walking towards me. She sniffed my outstretched hand as she wondered who this strange visitor was. Now it was playtime. Gretch used Jamu's favourite toy, a stick with a feather on a string, to have her leaping and bounding all over their living room. Jamu sat under the dining table ready to launch her next attack as she wiggled her butt.
Did you see which
tracking collar
Jamu is wearing?
It was now time for an adventure. Gretch rounded up Lamington, who was still asleep at that point, and got both their collars on before opening the door outside. Well, Jamu skipped right outside but Lamington took a bit of coaxing with treats to get her into the garden.
You just couldn't shake that mid morning nap could you, Lamington? I wouldn't have believed it from this day but I am told Lamington is actually the more adventurous of the two and can often be seen strutting around Coolum beach. Lammy and Jamu's cat dad Rhys, who Gretch described as 'the crazy cat lady' of the couple, is needed when they take them on bigger adventures. The curious sisters require a team of two cat wranglers to watch over them as they explore.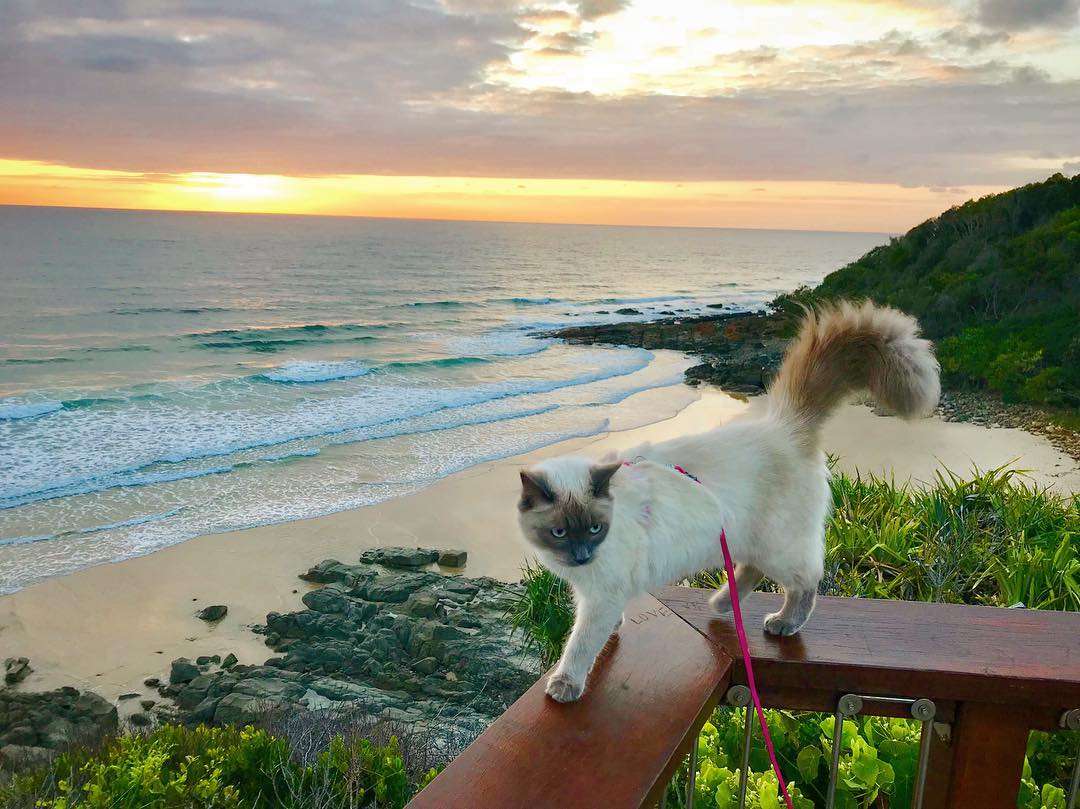 Though, Lamington just wasn't willing to work the camera for me on this day. Jamu, on the other hand, gave it her all!
Look at that cute little face!
While I was getting these shots of Jamu, Lamington lurked in the bushes. I see you Lammy, with your beautiful blue eyes!
What can you see there, Jamu?
Lamington walked over to where the action was and took a seat on a tree trunk. The scene was set, the cat was positioned, this could be the shot I was after. I scrambled to get the right settings on my camera. I made all manner of noises to get her to look at me for just one press of the shutter but then.. she walked away… I looked down at the camera LCD and see a beautiful, albeit cheeky, Lammy with her tonque out as if to say "phhbbttttt, not today buddy!"
Jamu took her place on the trunk and showed her how it was done.
Jamu then followed Lammy up a leaning tree, where Lammy realised the only way down was through Jamu's legs.
Just a little bit further! Move your butt Jamu!
Lamington found a quiet spot to sit as she pondered the perils of having a younger sister who follows you absolutely everywhere.
When the two aren't exploring the grounds of their jungle palace, they can be spotted on the beaches and forests of the Sunshine Coast. The sisters, who are the best of friends, find car travel a breeze and love their outings to new locations. As we were getting ready to say goodbye, Jamu thought it imperative to inspect the strange vehicle parked in her driveway.
We thought it best not to introduce the sisters to Willow for such a short visit so I put Willow in her carrier while Jamu explored the inside of our van.
What is this thing? Does it make treats?
How good does Jamu look as a van cat?
I won't lie, the thought of a catnapping did cross my mind. "Should Willow have a baby sister?" I wondered.
It was now time to say goodbye. But Lamington and Jamu had other ideas deciding to settle underneath the van. Come on guys! I need to get going!
I started the engine and Gretch ushered the two sisters away from the vehicle as I waved goodbye. It was now time to leave the Sunshine Coast to head South. I wonder what other cats we might get to meet?
For more on the always curious and always adorable Jamu and Lamington, check out their instagram page.
* * *