Join us today as we go deep, deep into the forest. Alright, not too deep – we have to be back for dinner. This afternoon we are with our guide Hamish the tuxedo cat and his adoring human, Mel.
We are on the Sunshine Coast, Queensland and although many come here for the white sanded beaches, endless surf breaks, and heavenly sunrises fewer know of the secrets hidden in the forest.
In the suburb of Buderim I pull off the main road and into a narrow lane which ends in a small carpark. The towering tallowwood trees form a canopy above and I almost forget that 2 minutes ago we were driving along the bustling Bruce highway.
A few years ago I had visited Buderim falls with my camera but unfortunately pets aren't allowed there. Today, we are across town at Foote Sanctuary and it is here I'm meeting my guide.
As I park up I wonder for a moment if we've got the right spot. Then I hear a car door open and from under the vehicle I see four paws touch the ground. This is our guy.
I'm greeted by Mel who has been facilitating Hamish's adventures since he was a kitten. We can go that way, or that way, she says, pointing to the paths that lead into the forest. As I take a few shots, Hamish stares at me as if to say, well if you must!
Hamish has a slight build with a delicately soft tuxedo coat and white whiskers. His eyes reflect the green and yellow of his surroundings magnificently.
Mel has gone to a lot of effort researching which places pets are allowed and now has dozens of trails that they explore daily. Hamish is placed in his backpack and clipped in as we set off on one of these trails.
As we walk, Hamish pokes his head out of the backpack and surveils the area for any changes since his last visit. The forest is luscious with rainforest palms and many a mossy log to sit on. As Mel unclips him from his backpack he descends down the trail – it is clear that Hamish is not much interested in sitting!
Mel and her partner Bruce have always loved the outdoors and spend most weekends hiking and climbing together. Though, their adventurous lifestyle always precluded them from owning a pet – for surely it wouldn't be fair to leave them at home?
But then they discovered Hamish in 2019.
Bruce, who works as a commercial meter reader, found himself one day in a pet shop in Brisbane. It was there that Hamish and is littermates were awaiting their adoptions having been placed there by the wonderful people at Animal Welfare League Queensland.
And so Mel tells me, Hamish decided that bruce was his human and wouldn't leave him alone.
Now, Bruce isn't one to make rash decisions so it was back to the Sunshine Coast that evening with a photo to show Mel.
He could have shown me a photo of any cat and the answer would have been yes, Mel exclaims understanding how Bruce had fallen for the kitty. So the following day Bruce returned to the Pet Shop and it was there that he realised how lucky he was.
The afternoon before, Hamish had in fact been adopted. But in a twist of fate, his new owners decided he wasn't a good match for their existing pets and returned him to the store. How they came to this conclusion so quickly is beyond me for anyone who has seen Hamish's fluffy little face would cherish him always.
So Bruce left the pet shop gleefully with 11 week old Hamish under his arm and as Mel puts it, figured it was meant to be.
But one question remained, how would he fit into their outdoor life?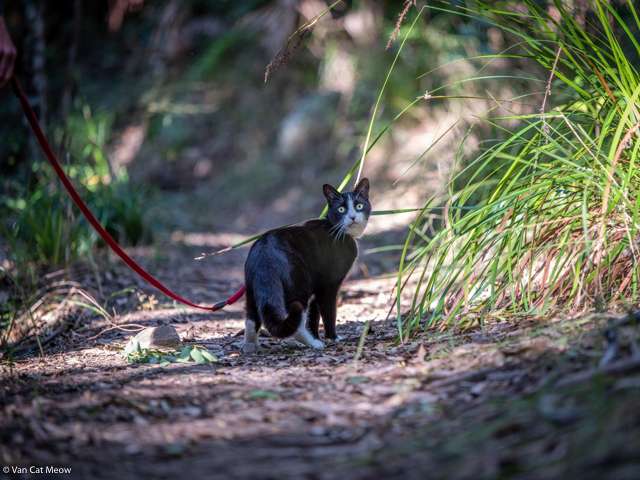 The next day Mel bought all the supplies needed for a life with Hamish. Food, toys, litter, and a H-style harness which she was quick to put on him. Hamish wasn't bothered by the fitting and soon forgot he even had it on. The next day they took him down to the beach to explore.
It took us a while to get our heads around what he preferred and what made him scared, Mel tells me. It wasn't long before they found his calling, this cat was a forest guide.
Back in the forest Hamish walks ahead of us on the path, stopping every so often to sniff the foliage and looking up at us as if to say we should be doing the same. It was clear we weren't getting anywhere fast. We are on the larger circuit on our way to one of his favourite spots. As we all know, every good guide has a lesson to teach and it was time for just that.
Hamish darts off the track jumping over the buttresses of an old Quandong tree. Here he stops and sniffs at a rock pile while Mel and I wait.
I used to be so goal driven with all my outdoor stuff, I used to run up and down mountains, Mel tells me.
But Hamish has taught her it's the little things that matter, the things you don't even see when you're rushing along.
We've spotted echidnas, birds, flowers, fungi.
Hamish decides it's time to get back on the path and it's not long before we arrive at his favourite spot. He scrambles along the rocks and for a brief moment poses for me on a fallen tree. But, you have to be quick with this cat as soon enough he was off again!
The last time they visited this spot they were graced with a brightly plumed Pitta bird and watched for half an hour as it danced around on the forest floor.
Hamish is rather set on his outdoor schedule and is very lucky to have humans so dedicated to making it possible. Everyday without fail they are out for walks together – and not just once. Hamish gets a day walk in the morning – generally to a nearby forest – and at 6:15pm he will demand his night walk around the neighbourhood.
Before meeting Charlie – the cat down the street – they would walk around the golf course or the nearby mountain bike tracks, but having met his new buddy there's only one place he wants to go.
He runs us down the street, they have the best time playing together.
Hamish leads us back along the path and soon we are crossing a small stream. He stands himself on the edge and paws the water as the ripples extend outwards.
This cat loves the water and can often be found up to his armpits in it.
The sun is getting low now and it beams through the palms as it casts a golden light over the water. The path twists back up the hill and we find a cascade.
Hamish isn't treat driven but luckily thrives on praise from his human. This proves invaluable on the occasions where he needs to be directed as Hamish listens intently to Mel's advice. But let's be clear. It is Hamish who is running the show here.
Further along the trail we meet some walkers and their dogs who aren't too sure what to make of a cat on their trail.
Hamish holds his ground as one of them approaches for a better look. He lets the inquisitive fellow know that these trails are for cats too!
The air is getting cooler now and we've been hiking around for nearly two hours – though none of which has been in a straight line! We arrive back at the carpark but not before Hamish shows us one last tree. Hamish is now content that we have seen everything we needed to see.
My whole life revolves around this cat, Mel tells me. The little tuxedo cat that guides her around the trails of the Sunshine Coast showing her the little things.
And what a wonderful guide to have; for there is great reward to those who stand on top of the mountain, but greater still to those who only make it half way with their cat.
* * *
What a little champion Hamish is (or Mishy Mash as Mel affectionately calls him). It was a pleasure to go on a hike with the two of them and to see one of their favourite places. The dedication Mel has for this cat is heartwarming. If you would like keep up with Hamish's adventures make sure to find them on Instagram @hamishadventurecat.aus.