On our way up to the Dorrigo Plateau, Steph, Willow, and I found ourselves at a park by the Nymboida River. The mowed lawns of Cartmill Park offered many places to pull up the van and enjoy the scenery. We parked next to the bridge in the shade of some Oak trees. [vcm_short_ad]
Where is it?

Loading..
→

Loading..

Loading..

Other places we have visited
The best place for a nap
The van was a mess. We had been to the laundromat before leaving Grafton and now every available hanging space was adorned with drying washing. Willow knew that her best chance of getting some peace was to spend the afternoon on the roof. It wasn't until late afternoon that we heard the screeching sound of claws on glass. Willow slid back down the windscreen now content that it was time to explore.
After sniffing some trees and rolling around in the leaves, she made her way back inside for another nap, this time on the dashboard. Steph and I got ready for a swim.
What's in the water?
The summer days had heated up the river, and there were no squeals or contorting as I splashed the water over myself – unlike the Tasmanian rivers I had grown up with. But, the tannin infused waters allowed my imagination to wander, and as I swung out on a rope hung from the bridge I wondered if that shadow I saw was a Bull shark. I remembered
an article I read a few years earlier
about a research project where shark monitoring stations were set up on tributaries of the Clarence River, of which the Nymboida is a part of. Something that had been stored in that small and limited part of my brain labelled 'things not easily forgotten'. Though, fear gave way, and on the next swing I let go of the rope, and as I splashed down I could see Steph's smiling face looking back at me from the bank – and also a green tree snake bathing on the rocks.
No treats, no poses
After our swim other park users arrived to enjoy the water and an ever watchful Willow kept an eye on their comings and goings. While Steph started on dinner, I got out my camera and some treats to entice Willow into some poses. It happened that every technique I used to get Willow to look down the barrel of my lens failed me. But, is a cat doing as you wish truly a cat? In my experience, possibly not. And so, I resigned myself to a short photo series of our model looking determinedly over yonder, for surely whatever is over there is more interesting than the now sweaty fish treats in my hand or the strange noises I was making.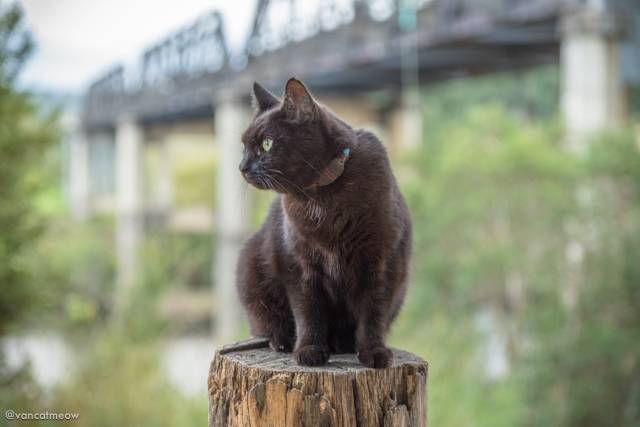 Night was falling and dinner was ready. The evening was still but for a little cat wailing for her meal. And regardless of how many bull sharks there lay lurking in the depths of my imagination, no greater danger was had that day than the number of chocolate squares I ate after dinner.
* * *