When we arrived back in our home state of Tasmania in February 2021, we had no idea we would stay this long. Now, as we waited in the queue to load the van onto the ferry that would take us back to the mainland I thought of all the adventures the three of us had over the past 2 years.
These are some of the highlights from our time in Tasmania with Willow.
We smelt that sweet forest air
After so long on the mainland there was one thing we were craving – some good Tassie forest. After we got off the ferry at Devonport we drove to the forest and cooked dinner.
We drove to the end of the world
We got to stand on the most Westerly point of Tasmania some call the edge of the world. The Southern Ocean was putting on a show, as always, and the sunset was spectacular.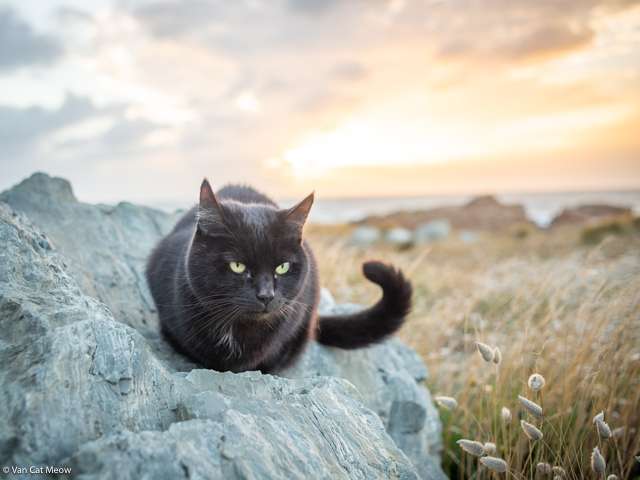 We got locked in a forest
Okay, Willow does love to be in the forest but we weren't expecting to get locked in one! And that was only the start of an eventful day.
We got lost in Tasmazia
We spent an afternoon at one of the most magical places in Tasmania. Tasmazia is one of the world's largest maze complexes and includes the scaled down Village of Lower Crackpot which is cat sized… if you ask me.
We visited a ghost town
The town of Luina, as we learnt, is a town that died twice. We got to walk it's old streets that had been reclaimed by the forest.
We discovered that 'I know a short cut' doesn't always end well
On our way to the Bay of Fires we found ourselves on a rough road that gave our tyres a run for their money. But, there's no lesson learnt unless something goes wrong, right?
We explored our cottage garden
Willow loved to spend time in the garden of the cottage we stayed in. We were very fortunate to be able to rent such a unique home for our stay in Tasmania. The history was quite interesting.
We discovered this old car wreck when looking for a camp
Willow enjoyed climbing all over the old car and taking her time to sniff it out. It's interesting what you find when you're trying to find a place to camp for the night.
We got to meet Bonnie who travels around Australia with her family
They were also very excited to meet Willow. Bonnie had recently joined the ranks of cats, just like Willow, who have visited every state in Australia.
Willow helped celebrate our wedding anniversary at the beach
Willow watched on as Steph and I put our van cookery skills to the test when we made a sushi lunch to celebrate 2 years of marriage. Of course, Willow got some pieces of trout!
And finally, we spent a cosy weekend in the snow
We visited the central highlands where Willow had her very first snow experience. Inside the van we were as warm as could be, and Steph and I had many cups of tea while Willow napped.
* * *
Wow! What an amazing couple of years. What I loved about our Tasmanian experiences was that, although we were living back in a house, we made the most of our time together in the van. Now we are back to full-time van life.
We had a safe sailing on the 12 hour ferry trip that brought us into Geelong, Victoria. Can you believe Willow has made the crossing seven times now?
We spent some time with friends in Melbourne and got to catch up with family before making our way to South Australia where our next adventures will begin. It was sad leaving Tasmania but right now we are looking ahead to new places and new stories – where ever that may lead us!
Thanks for coming along for the ride!