One of the greatest things about nomadic life is that you never really know where you are going to end up. This thought would have provoked fear in my heart years ago, but for now it is a way of life. The realisation that you have everything you need with you and nowhere in particular you need to be is deeply comforting.
Mangroves of South Australia
In April of this year we breezed into South Australia having crossed the Nullarbor from Western Australia. After enjoying the Eyre Peninsular and some truly spectacular campsites we were ready to find somewhere to settle ourselves for the following winter months. We found ourselves on a mangrove beach on the Eastern side of the Spencer Gulf and it was only a week before I knew this place would leave an impression on me. There are many reasons why people visit South Australia; the wine growing regions, copious farmers markets, whale watching – what you won't see in the travel brochure nor on many people's bucket list is 'hang out in a mangrove for 3 months'. But that is exactly what we did.
South Australia is named as such for being the third most southern state of Australia.
Those freezing nights
Autumn and the start of Winter were very mild but then things took a sharp turn with many nights getting down to 0c. Luckily I had extra blankets and a sleeping bag, and of course a little cat curled up underneath for extra warmth. The best thing about Australia's Southern mangroves is that there are no crocodiles! To camp in a mangrove up North you face the serious prospect of being eaten by a 4 metre saltwater croc so I savoured the opportunity to explore this habitat without that ever present risk.
Everyone has a routine
The weeks soon became familiar with each starting with a 'town day' usually in Port Pirie. We visited the laundromat, filling up the van and getting fuel for the generator, and got other much needed supplies. At the supermarket and farmers market I would stock up on the basics. We have a fridge so I shop much like I would at home; heaps of veggies, a bit of meat, and maybe some treats! The van can carry 65 litres of fresh water which is usually filled up from a park. Willow will happily sleep in on the bed this whole time and the weather is cool so I didn't have to worry about leaving her for too long. By the end of the afternoon we would have made it back to our camp, sometimes we would go a bit further down the beach or just stick to the mangroves. I would let Willow outside and watch her play whilst I made the bed and started dinner.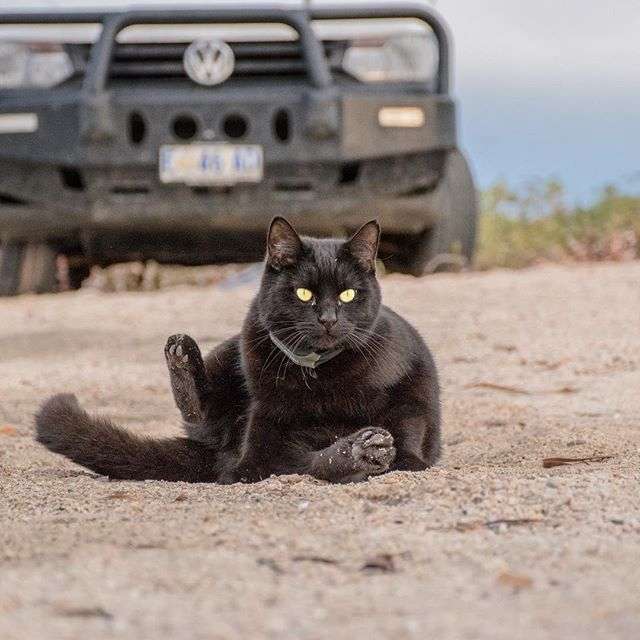 Produce everywhere!
South Australia's farmers markets are said to be some of the best in Australia and it was always a delight to visit them, especially Port Germein and Wirrabara. Some of my favourite produce was the home grown olives, dried fruit, but most of all the cakes and biscuits! ►
Find out what Rich did when he had to throw away Willow's cardboard box
When the tide was low it was over a kilometre walk across the tidal flat to the water line. From out there I could look back at the shore and see my tiny little house that had taken us so far around Australia. Occasionally I could see locals in the distance collecting cockles in the sand or wading out further with their hopes set on some whiting or snapper. At night if I was really quiet I could creep up to the mangrove creek and see big blue swimmer crabs near the banks – though they were all safe from my fishing abilities. On one ocassion I had to explain to Willow that a crab is not something you want to mess with. ►
Read about Rich & Willow's escape from high tide here
Not just our special place
On public holiday weekends the place would come alive with other campers and day tripping locals heating themselves around campfires, fishing, and revving trail bikes – a popular hobby amongst South Australians. When the off-road dirt racing was on at the nearby track it could not only be heard but a trail of dust could be seen extending right along the Flinders Ranges. Although for a few locals just a dried up salt marsh is good enough to do their burnouts on. Willow was never much impressed with those noisy machines!
Spencer Gulf puts on a show
The weeks past quickly as we watched the tides come in and out and every evening we were rewarded with spectacular sunsets – on flat calm nights the sunlight reflecting off the water was divine. On these quiet nights if you listened carefully you just hear the hum of industry across the gulf as the workers sweated away at the steelworks in Whyalla. On afternoons after a cold sunny day Willow would come inside after a hard day napping and we would watch the storms slowly come in across the Gulf. If there was ever a theme to our travels it would have to be 'follow your instincts', and as whimsically as we had arrived, we left. Knowing that one day we would return to this place we called home for 3 months we headed South, on to a new adventure.
Where is it?

Loading..
→

Loading..

Loading..

Other places we have visited
~ ~ ~