When other travellers warned me about crossing the Eyre Highway through the Nullarbor I was skeptical. How bad could it be? We had already travelled on many a tough road in our 2 years since leaving home. But this was something else. In February 2017 we made our crossing.
Where is it?

Loading..
→

Loading..

Loading..

Other places we have visited
Mind Games
It wasn't the potholes, for there weren't many. It wasn't the dust, for the road was sealed. And it certainly wasn't the hills, for it was flat. It was the boredom. The 1202km from Norseman, WA to Ceduna, SA features the '90 Mile Straight' and to be honest the rest of it was close enough to straight as well.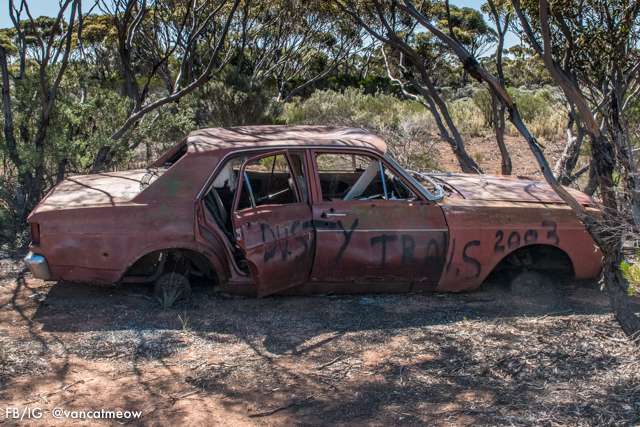 Littered with Wrecks
Like many outback roads in Australia, the sides were littered with the wrecks of cars that didn't make it. I can only imagine that many drivers succumbed to that boredom and fell asleep at the wheel. We took seven nights to make our crossing (some do it in one day). One night we stopped in by an old quarry close to the Madura Roadhouse. A number of wrecks had been dumped here making it a make-shift car graveyard. It was the purrfect set to take some photos of Willow.
Willow is queen of the junk yard!
Purrfect Eight
Every few 100 kms or so there would be a roadhouse where travellers could fill up their tanks and get a meal. We made it across the border to South Australia to celebrate Willow's achievement of finally visiting every state in Australia. What an awesome little cat!
On our last night on the Nullarbor we camped right on the cliffs of the Great Australian Bight. At sunset I took this picture of Willow enjoying the last of the suns rays.
One last wreck before we go
After a safe 1200 km we were very happy to arrive in Ceduna – it was the biggest town we had been in since Esperance. The Eyre Highway continues on to Port Augusta but we pulled off so that we could continue our adventure exploring the beaches of the Eyre Peninsular.
~ ~ ~